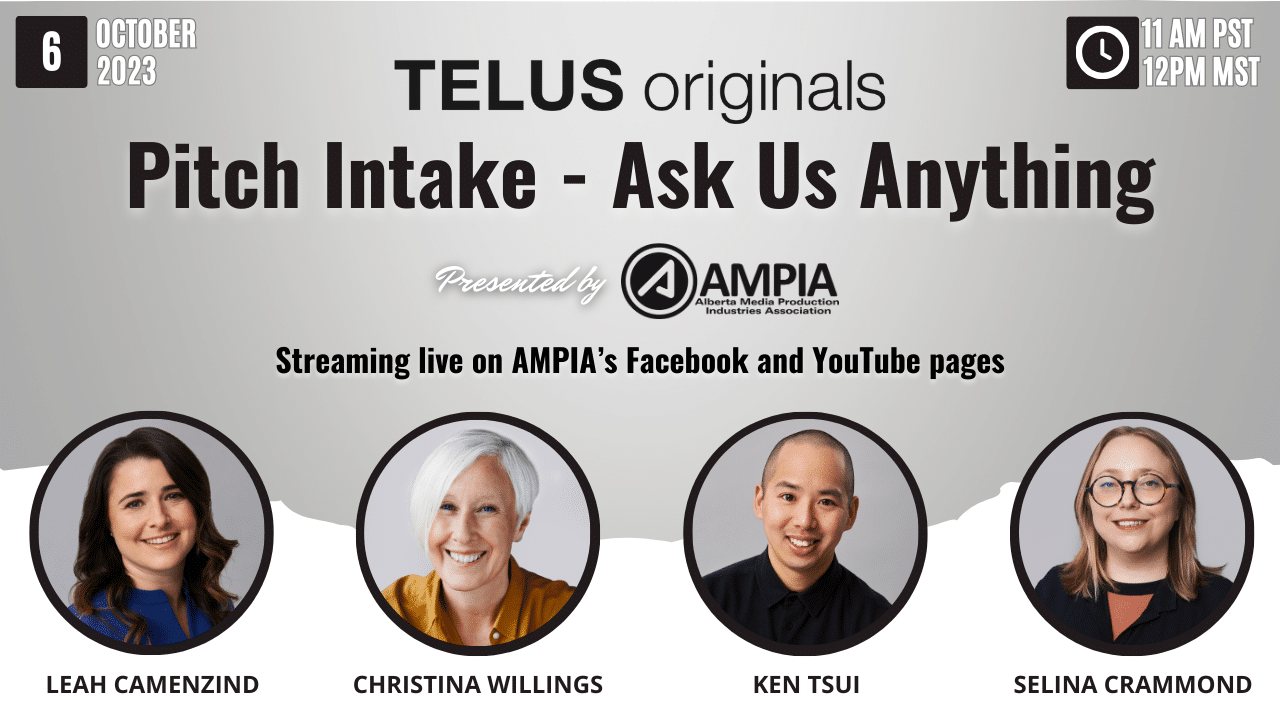 Hello Alberta and B.C. documentary producers!
Have you heard?
The annual TELUS originals documentary Pitch Intake deadline has been extended to October 15, 2023 and AMPIA is hosting an 'Ask us Anything' session for you to ask your questions directly to the TELUS original production team.
TELUS original Pitch Intake Ask Us Anything
presented by AMPIA
Date: Friday, October 6th, 2023
Time: 12:00pm-1:00pm MT / 11:00am-12:00pm PT
Please read the TELUS original Producer Guidelines and Pitch Submission Guidelines prior to registering to determine whether the benefits and requirements of this program could work for your project(s).
Register Now
About TELUS originals
The TELUS originals program supports the production of compelling, locally reflective, social purpose documentaries and documentary series that connect established, independent filmmakers in B.C. and Alberta from diverse identities and communities to local and global audiences.
Important Details:
We are seeking pitches from documentary producers who have authentic connections to compelling stories in one of these 15 communities across Alberta & B.C.
We license a variety of formats—short, mid-length and feature documentaries, as well as short format documentary series—with an emphasis on feature-length documentaries.
We accept pitches for documentary production funding during an annual Pitch Intake Window from August 15, 2023 to October 15, 2023.

Production funding for the films greenlit during this intake window will be available in March 2024.
Films licensed during this Window will deliver on or before June 30, 2025.

To make the most of our time together during the AMA, we will prioritize questions that are not answered on our website in the Producer Guidelines and 

Pitch Submission Guidelines

.
Can't attend the event?
We accept one-liner concept pitches via the following routes:
Book a 15-minute 1:1 meeting during the TELUS original Office Hours
The TELUS original production team is hosting Office Hours for producers who would like to share a one-liner concept with them for immediate feedback prior to submitting a pitch via the Pitch Intake Form before the deadline. Book now.
Email us before October 8, 2023
Email the TELUS originals Production team at telusoriginals@telus.com a one-liner concept pitch prior to October 8, 2023 and we will get back to you with brief feedback within 5 business days.
Submit a pitch to TELUS originals before October 15, 2023
If after reviewing the Producer Guidelines and Pitch Submission Guidelines your next project looks like a fit for us, we encourage you to submit a pitch via our online Pitch Submission Form, which will close at 11:59 p.m. PST on October 15, 2023. This is the only way pitches will be accepted for consideration.
If you require an accessibility accommodation to submit a pitch, please email us at telusoriginals@telus.com by October 1, 2023.
We look forward to hearing from you!
TELUS originals and AMPIA teams