The Alberta Media Production Industries Association promotes the interests of all Alberta producers and creative talent working in motion picture, television, and digital content production. We work in liaison with government, facilitate community awareness, develop careers, and promote the content of our members through events, workshops, and partnerships with industry experts. Membership allows emerging and established producers to meet, connect, and collaborate.
AMPIA'S 50th Anniversary Edition of
The Alberta Film & Television (Rosie) Awards
The Alberta Media Production Industries Association (AMPIA) is pleased to announce their finalists for the 2023 Alberta Film & Television Awards, celebrating excellence and outstanding achievement in Alberta's screen industries.
The Rosies will be held in Edmonton over two celebrations on Saturday September 30, 2023.
The complete list of nominees for the 2023 Alberta Film & Television Awards can be found here. Tickets are now available for purchase through the AMPIA website: https://ampia.org/rosie-awards-2023-tickets/
We encourage guests to attend both events and receive a discounted ticket price of $225 for non-members and $175 for members.
Join us for the Alberta's premiere media and film industry event of the year!
For further information contact:
Bill Evans – 780-916-9559 | bevans@ampia.org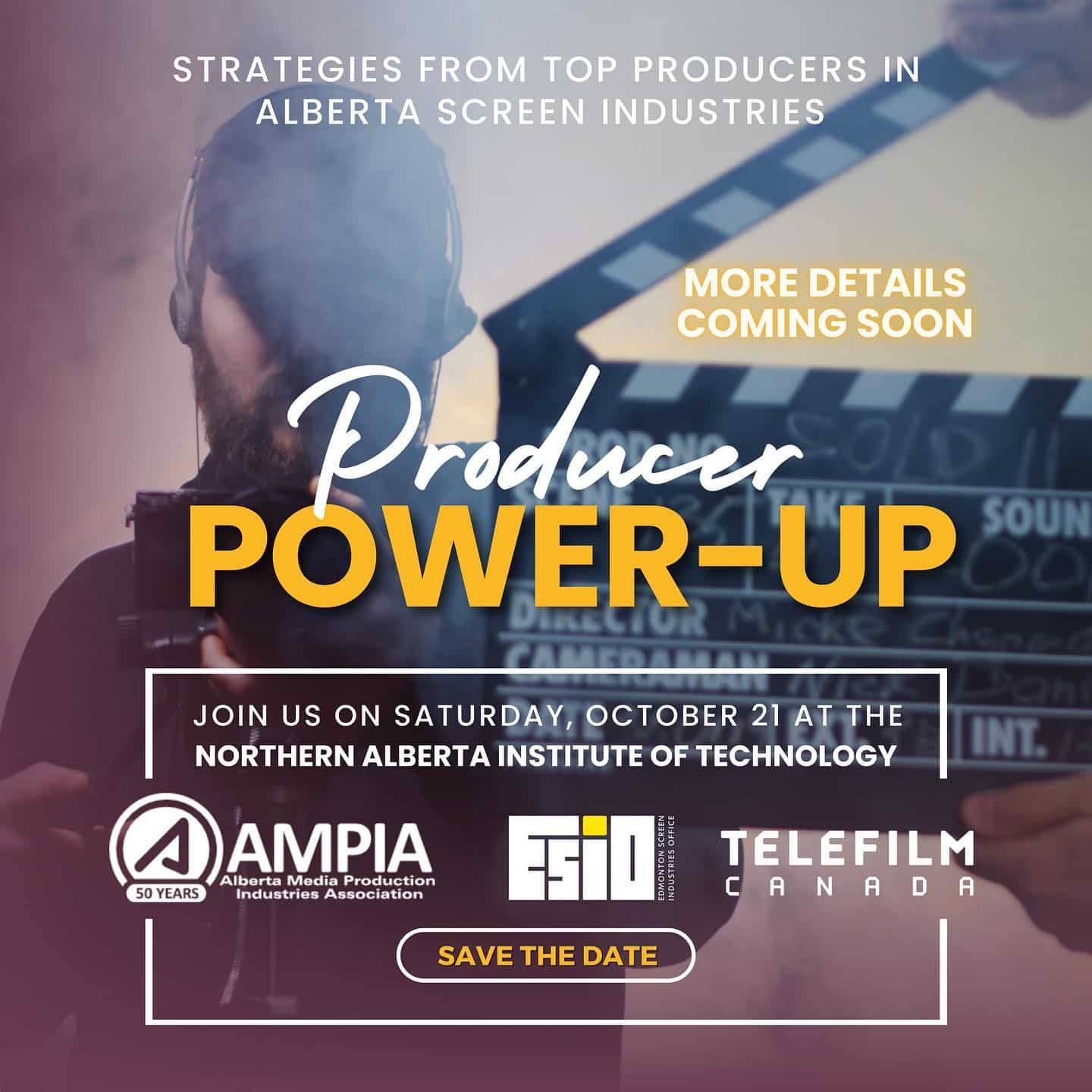 Strategies From Top Producers
Join us for AMPIA's Producer Power-Up, a dynamic one day event to be held at NAIT's DOW Theatre in Edmonton, AB, on October 21!
This exclusive conference is tailored to empower Alberta's producers in the film industry and offer valuable insights and knowledge shared by our industry's experienced producers and production managers.
More details for the Producer Power-Up to follow soon! Thank you to all those who have already registered and for your patience while we finalize the details for this exciting event.
The Producer Power Up is organized by the Alberta Media Production Industries Association (AMPIA) and made possible with the generous support of the Edmonton Screen Industries Office (ESIO) and Telefilm Canada.
The Latest News & Updates
Industry events and breakthroughs  ·  What's happening in Alberta
A look at some of the people and productions who are making history in Alberta
Showcasing some of the incredible Alberta media professionals making waves in the industry right now. Learn more about these talented individuals and their outstanding projects.
Innovative Director/Producer
Katrina Beatty has written and directed several short films and music videos including Cold, 21 Floors, Nausea, The Dinner Table, The Meat Market, and Day to Day on various formats from 16mm film to the RED EPIC.
Edmonton-raised filmmaker whose film 'Skinamarink' has received positive reviews from outlets like Roger Ebert, The New York Times, and Rolling Stone, was made with a mind-blowingly small budget of $15,000 U.S and has since grossed over 3-million dollars at the box-office.